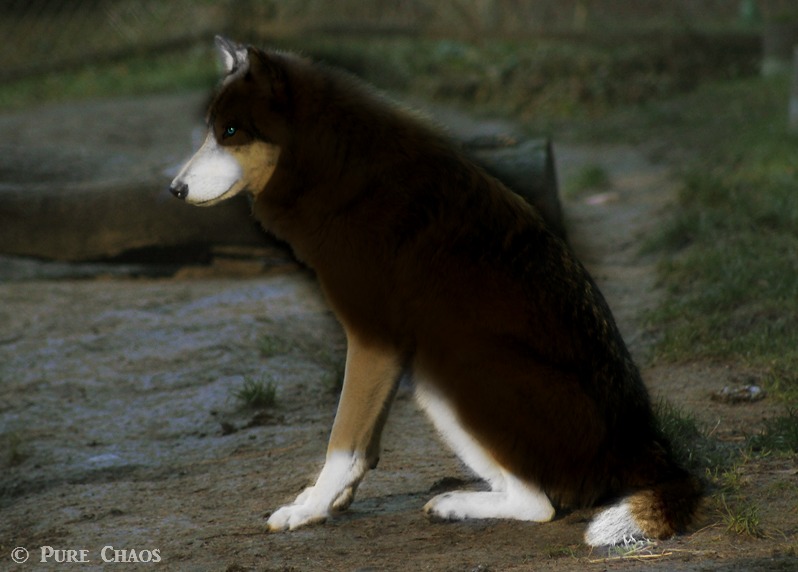 N A M E :
Lennox Atlas Nikias
 N I C K N A M E :
Len || Lenny
 G E N D E R  :
 Gentleman
A G E :
Three Years
 S P E C I E S :
 Thorough breed Eurasian timber wolf 

 B U I L D:
Lennox is around 3 inches taller than the average male, his legs are long and lean. His frame is not too broad, he's a bit compact with muscles. His frame makes him out to be a wonderful athlete, able to run, jump, and swim need be. His long and tall body includes a lengthy tail. Hi paws are a bit broad, making it easy for him to walk on snow in winter.
 F U R - T E X T U R E :
Lennox's pelt is silky and soft, it easily absorbs water, which he loves when it rains. His fur feels almost like a young pups fuzzy coat.
 F U R - C O L O R :
 Lennox undercoat is a golden-honey shade- making his legs honey as well. His head, sides, back, and tail are a dark chocolate color. While his paws, right ear, and muzzle are as white as snow.
E Y E - C O L O R :
 A pale cyan blue, filled with silvery flecks.
M A R K I N G S :
 His tail is striped with honey gold and then dipped with snow white.
S C A R S :
Due to some events in his life, Lenny has many scars beneath his coat that are not often seen by others. 

 P E R S O N A L I T Y :
Lennox was forced to grow up at a very young age and took on the responsibility of a whole pack, he matured much earlier than most wolves and was filled with knowledge. Throughout his young life, he didn't have the option to stay a pup and continue socialization and maybe find a female that he could be with. His urge to find a mate was over ridden by the want to escape his past, and become a leader. Since he never took interest in love, that didn't mean he didn't take an interest in females. Len is known for flirting with many female wolves, but would never commit. His want and need to be a thriving alpha could not be fulfilled if he wasted his time on a femme wolf. Plus, why would he pour his soul into one creature that could easily destroy him.
 He's kind to all wolves, but more towards pups and females. He's very wise beyond his years and still has a healthy curiosity. Lennox is a very quick learner, making his young alpha role easier than it would have been for most.
Lennox is a brave, noble, and caring creature- he does his best to keep others happy and safe. He has great qualities to be a father, but only has interest in PROTECTING his pack.
In  a short way- Lennox is flirty, with commitment issues. Wise beyond his years, though curious. And has always been a leader.
 H I S T O R Y :
  The Nikias clan was the first pack to reside in the country of Greece many ages ago, over the generations they flourished there. Claiming the land and raising their families in the lush. Soon two new alphas came to rule- the former leaders' daughter- Calista and her mate of three years, Dukane. They soon had their first and only liter. Neither of them really wanting more than a few pups- everyone was happy.  A large son was first, it was Lennox- consisting of an odd coat color. Second was Myth, a small golden female. And third was Delta, a dusty grey colored femme wolf.
The three siblings were always inseparable, and Lennox always did his best to look out for his younger sisters. They had a good life as the alpha litter, able to meet and greet whomever they wanted and everyone willingly welcomed them. They often played with the other pups in the pack and would enjoy teaching them things only alpha pups learned. Lennox loved teaching and knowing others would listen to his words.
For 6 months, things couldn't have gone better. But soon it was time for the alpha brood's first hunt. They were sent off with their uncle, Kronos- the lead hunter of the pack. He never seemed too happy about "looking after" the pups, even though they didn't need looking after.
On the hunt, Kronos told the, exactly what to do. And soon, Lennox led his sisters towards the deer and began the plan. Everything was running smoothly until Myth made a mistake, the deer switched directions and began to stampede towards the den site. No one was present at the area except some young pups and a sitter. Lennox's heart began to race as his thoughts yelled
'What do I do, what do I do!'
Suddenly his paws answered the question for him. Instinctively he raced towards the prey. He passed them and made it towards the den, he was howling a warning to seek shelter, and get inside now! The pups and sitter were soon safe. Lennox ran beside the deer to steer them back into he plains.
Soon all was well again and the three siblings managed to finished their hunt and take down a large buck. Upon the packs return home, they heard of Lennox's act to save the few still at the den. Hi parents were proud, as were the other wolves. That night, Lennox's father, Dukane, spoke to him. Kane told him that he knew he would make a wonderful alpha one day, and that the pack was looking forward to having such a grand leader. The thought of that made Lennox happy, the two males soon resigned for the night into the den.
What they didn't know, was Kronos was watching and listening. The hunter wished to be alpha after his elder brother retired. It was always his goal to be the clan leader. The next morning , Kronos was waiting for his brother and nephew. He said he wished to plan a small hunt party. But instead he rallied a few wolves to attack the two. He'd promised that if he came to rule, they would gain high ranks and breeding rights.
Lennox and Duke were ambushed by three wolves. Lennox was young, powerful, and healthy. Though his father was old and now weak. His fight didn't last long. Dukane soon hit the earth and took his last breath. Lennox wouldn't settle for such a crime. He attacked his uncle full force and managed to win. He stood over the frame of the male, though spared his life. The other few wolves, now seeing Kronos would not be leader, fled the scene knowing nothing good would come of it.
Lennox attacked his weak uncle once more and growled in his face. The regretfully dragged his father's carcass to the den site. Weeping was heard, as well as mourning howls. Calista was  depressed and unsure of what to do.
for a while, the six month old male took charge. Lennox was a natural born leader, and after his actions the pack willingly followed his commands.
Lennox was a leader for one year, he lead his pack through wars, reunions, new pups, drought, and famine. All members still surviving and healthy. Kronos still lived in the pack, but was now a lower and looked down upon. He was filthy, and slightly starved. He wouldn't eat and no longer cared about himself after killing his brother and not gaining the throne because of it.
Soon something was pulling Lennox away, he followed it, taking him to the boarder of his land. He was being pulled farther than he thought.
His instincts were telling him to leave his birth pack and travel. He returned to the den, and announced his departure. His mother was sad and happy about his need to leave, she knew he would accomplish great things. He left his sister Myth in charge, along with his mother and assistance from Delta- he knew the pack was going to be okay.
The one and a half year old set off, in search of what was pulling him away. Lennox was one and a half when he set out on his journey. He thought he was being pulled away from Greece, but in fact he was being pulled deeper and deeper into it. He told himself stories at night when the stars came out, pointing out the Greek Gods and Goddesses that he had learned so much about from his parent and grandparents. He traveled alone for six months, until he found a land that was dead. It was burned from a forest fire, and the prey fled. Everything was a mess. This would be the point other wolves turn around and return to where they came form. But the wind grew fierce and shoved Lennox forward.
soon he found himself in a new land, far away from his original home.
 S T R E N G T H S :
Strength || Speed || Wisdom ||
 W E A K N E S S E S :
 Flirty Females || His past ||
L I K E S :
Rain || Thunder and lightning || Night || Spring || Flirty females || Being the alpha || Young wolves/pups || Star gazing || Greek god stories
D I S L I K E S :
 Disrespect || Wolves who see themselves as higher than they really are || His worthless uncle || Liars || Clingy wolves || Titans
D R E A M S :
 To fulfill his and his parents' quest to be a miraculous leader of a large thriving pack.
F E A R S :
Lennox fears love, throughout his young life he never took a serious interest in a female- though he flirts with many females, he fears love greatly. Giving a female the power to internally destroy you doesn't sound that great to him.
He also fears never having a pack. 

 M A T E :
N/A
O F F S P R I N G :
 N/A
S I B L I N G S :
 Myth || Sister || Nikias pack, Greece
Delta || Sister || Nikias pack, Greece
S I R E :
Dukane || Deceased
D A M E :
 Calista || Nikias pack, Greece
F R I E N D S :
N/A

S C E N T :
Lennox smells of spring - damp soil, fresh air, dew covered grass. A fresh and welcoming scent to many.




Join date

: 2015-05-25


Posts

: 2



Oh, Lennox sounds like a super cool character and I am looking forward to getting to know him more in the RP. It will be great having you here with us! :D
Council Elder




Join date

: 2015-05-18


Posts

: 99



He has such neat and original markings, Lennox! Also, your bio is great. Its so fancy and goes together with the character nicely! It's interesting that he had to mature earlier than most wolves, too, definitely adds a nice depth to his character!
GREEN Sentry




Join date

: 2015-05-28


Location

: Florida


Posts

: 31




---
Permissions in this forum:
You
cannot
reply to topics in this forum