Council of Elders – Roleplay
Three Years of Age
Female
One does not have to be any single thing to be an achiever.


Physicality ➢ Swiftness, strength, and stamina are best when used in tandem with one another. Loup's build is average, perhaps a little on the stolid side, but her musculature allows her lope long distances. In fights, her technique relies both on her strong build and her relentless savagery. Loup's running speed suffers the most, but don't underestimate her ability to aim her bites quickly and effectively. Her fur is a many-layered network of brown markings which are darker in the winter and lighter in the summer. Her eyes are a clear, bright gold. Again, average for a wolf, but they match with her fur quite well.
Mentality ➢ Loup is an old wolf trapped in the awkward body of an adolescent. Her mind is calm, quiet, and logical. She's intelligent and her loyalty runs deep and strong. She can endure great pain without complaint, never asks for reward, and fights for what she believes in with never-ending persistence. Loup does not give up, does not back down, and does not double cross her friends. Yet, in trying to communicate with others, this mature being cannot offer more than the simplest of words. She stumbles over her own tongue in a desperate attempt to form a connection with her peers. As a result, she is misunderstood to be simple minded and in need of protection. Lou does want protection–her goal in life is to find a few individuals to whom she can utterly devote herself–but she is still perfectly capable of a solitary existence. However, she likes nothing better than to feel included and valued. When ignored she mostly just returns the favor, but any aggression or ill-meant teasing is infuriating to her and dangerous to anyone nearby. Loup is a deeply frustrated, tired, and lonely individual. All she wants is acceptance, but all she knows is rejection.
Past ➢ Raised in a small pack, Loup was always the good pup. She never got into trouble and always did as she was told. As a result, she rarely "lived" and in her young years grew frustrated with obedience and putting up with constant teasing. Anger boiled in her, but she waited until she was of a decent age to disperse. Her pack had expected her to be the tame one while her siblings left, but Loup simply slipped away one night with little regard to helping raise next year's litter of pups. So far, she has yet to look back.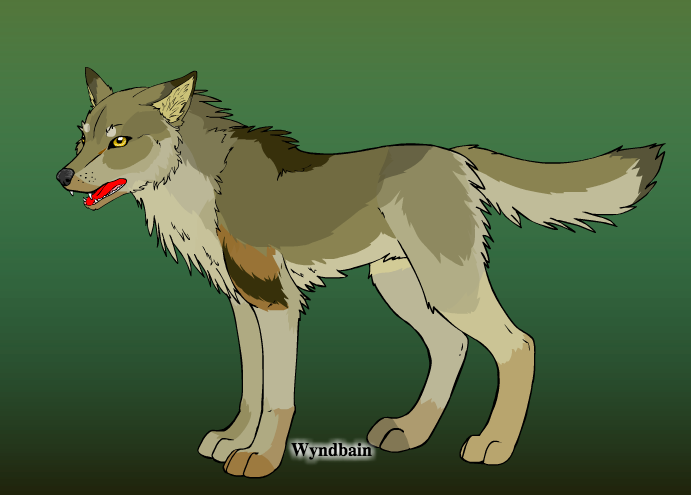 Last edited by Loup on Wed Aug 12, 2015 2:55 pm; edited 6 times in total
Council Elder




Join date

: 2015-05-30


Posts

: 112



Loup sounds like a great character and I'm looking for to having you around in the pack. Welcome! ^^
Council Elder




Join date

: 2015-05-18


Posts

: 99



Welcome, Loup! I like your reference, the design of Loup is awesome, especially the colors and where they are located. Her personality is nice, too! It seems she might have some trouble making buddies if she stumbles a bit with her tongue, but I'm sure she will make them in time. (:
GREEN Sentry




Join date

: 2015-05-28


Location

: Florida


Posts

: 31




---
Permissions in this forum:
You
cannot
reply to topics in this forum