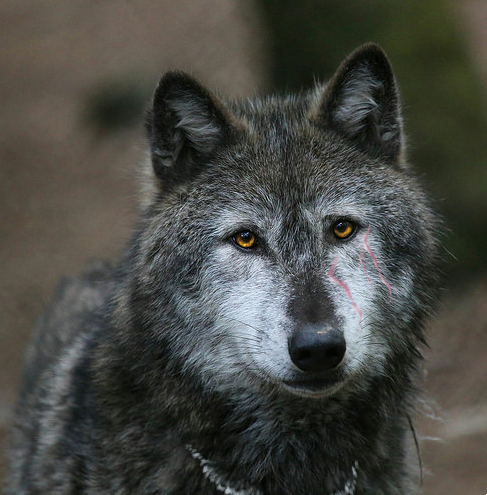 edited by me
Wolf Name: Braxton
Gender: Male
Age: 4
Rank: Recruit
Physical Stature: Tall, lanky, and lean.
Appearance:Brax has a mostly dark gray pelt, littered with ticks of white throughout. He is rather tall for a gray wolf, but makes up for this in the lankiness he is cursed with. His eyes are a dark chocolate with flecks of amber, and he has no particular markings to note despite a scar that takes up a little less than half his face. This scar is caused, not from another, but rather from his own idiocy; he came too close to an unfriendly fox and it clawed a noticeable scar that spans across his cheek.
Reference of your wolf: Above
Personality:
Cold, calm and collected. Braxton has never been one for folly or simple games, more for cold calculation and quick decisions. He thrives on wit and breathless adrenalin; never thinking, always acting. He is always ready for action, and seeks thrills- sometimes in irresponsible ways. His heart is loyal, although his stupid and often selfish actions may not show it. Braxton enjoys being a member of something, although he may seem like he would rather be alone- truly, he enjoys attention and the sincerity of pack life.
WILL BE EXPANDED
History:
work in progress!
Braxton was born into a meager life, not of riches or grandeur. He was one of five, and felt as if he never received an equal amount of attention due to his lankiness; his siblings were much stronger, thicker, more promising. Even his sister showed more physical prowess than the young male did, much to his disgust.
GREEN Hunter




Join date

: 2015-06-18


Posts

: 10



Hooray for Braxton! Interesting character, can't wait to see him in the Roleplay!
Seeker




Join date

: 2015-06-02


Location

: TX


Posts

: 94



Welcome Braxton can't wait to RP with you
INTERMEDIATE Caretaker




Join date

: 2015-06-03


Posts

: 84




---
Permissions in this forum:
You
cannot
reply to topics in this forum