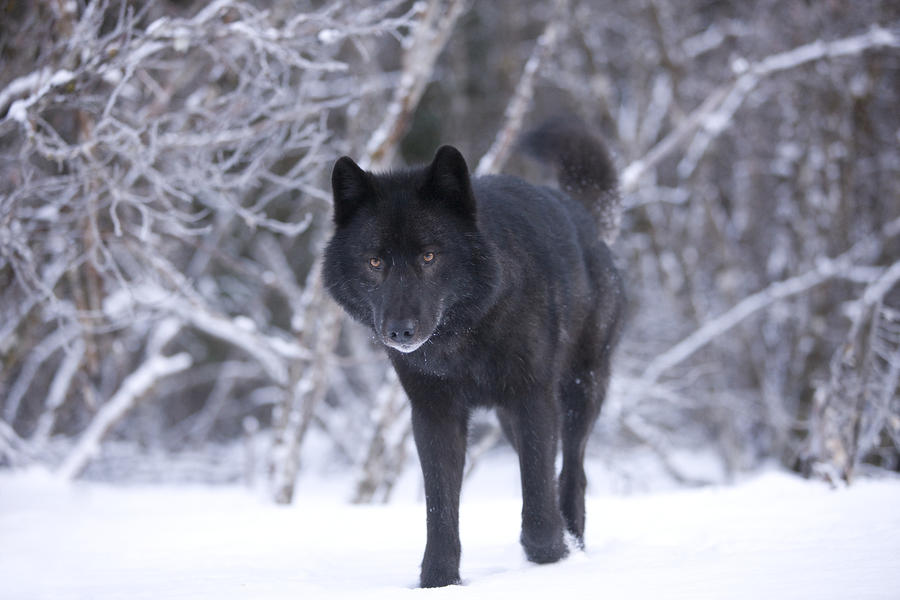 ♤ The Core ♤
Name
Lupa
Gender
Female
Age
2 years
Sexual Orientation
Hetrosexual
-----------------------------------
♤ The Outer Shell ♤
Appearance
Lupa is pure black, with a few white highlights. She has a large muscly build with striking brownish yellow eyes. Lupa is tall and strong, she has been roaming around fending for herself for a long time. She has a large jaw, lined with huge teeth. She has a few "battle scars" along her chest and facial area.
--------------------------------------------
♤ The Inner Self ♤
Personality
Lupa is strong minded, hard headed and stubborn. She is also loving and compasionate, a good leader and a strong fighter. Lupa knows when something is worth fighting for but will never let her pack mates down. She would face danger for her pack but never be too stupid as to go alone risking her whole life for them; unless commanded to by her Leader. Lupa also has a strong sense of loyalty, knowing her place. Although her stubborness may sometimes be bad, it is also good at times. And vice versa for all her skills. Lupa rarely rests and is extremely hyper and excitable. She may at first come across as enthusiastic, to which she is but she is also defensive and loyal.
History
Lupa has been a lone wolf since a young age. She was born into a small failing pack to which she grew to 9 months before her pack was caught in a forest fire. Many of her pack died but her mother would not let Lupa or her siblings die. She carried them all to the edge of the woods but their father was left behind. She dropped us down, leaving Lupa in charge and went back for him. The fire lastest for several minutes after, during which many howls of pain were let loose. Her mother never returned to them, one wolf did survive the fire and took the pups and Lupa to a small river den.
There they were raised to the age of one before she dispersed. Lupa never knew what happened to the rest of her family, but she does remember their names. Her sister Ocean, brother Xavier and the pack mate, Tala. Lupa still thinks of them all today and hopes that one day she'll meet them again.
Lupa also remembers the young wolf the adopted, Stripe was his name. He was abandoned but thought he'd go back with my mother to help. She didn't know what happened to him, she hopes to see him some day...
Family
Skye ∥ Mother ∥ Deceased
Yahto ∥ Father ∥ Deceased
Ocean ∥ Sister ∥ Unknown
Xavier ∥ Brother ∥ Unknown
Tala ∥ Foster Mother ∥ Unknown
Stripe ∥ Foster Brother ∥ Alive - Dispersed from WoSA
Likes
Lupa likes many things but some of her favourites are: Family, Guarding the Pack, Leading, Pups. She also enjoys long treks alone, but when she has close friends or family around she will travel with them. Lupa also loves to hunt large prey, she hunts them for an adrenaline boost as well as to feed the rest of the pack. Lupa also, even after everything, has a strange liking for fire.
Dislikes
Lupa doesn't really dislike anything other than a pack tearing itself apart. When she was a lone wolf she had to adapt to know to love everything and all the time you have. But if there is a pack dispute she will be there to stop it and make sure nothing gets out of hand.
Fears
Lupa only has a few fears, they include her pack tearing itself apart and loosing her loved ones. Lupa will do anything to stop all of these, although she has a love for fire she will always try and get the pack to safety if one did occur. She does not ever want a re run of her younger life, so protecting her pack is something. Lupa will not let anyone destroy the pack and will stop fights at any cost.
-------------------------------------
Last edited by Lupa on Sun Aug 16, 2015 2:36 pm; edited 11 times in total (Reason for editing : Updating)
This is a beautifully laid out biography, Lupa! I love the style.
Welcome back to the pack anyway. Can't wait to roleplay with you.



Join date

: 2015-07-05


Posts

: 15



Thank you for the compliment, Stripe!

~Updated to add likes, dislikes and fears~
Last edited by Lupa on Mon Jul 06, 2015 5:55 am; edited 1 time in total (Reason for editing : Announcing updates.)
Lupa's posting table code:
Code:

<br><center><div style="background: no-repeat bottom #000000; width: 500px; margin: 0 auto;"><div style="padding: 10px; padding-bottom: 0px; width: 470px; font-family: Arial; color: #ffffff; font-size:11pt; line-height:15px; letter-spacing:0px; text-align:justify;">
[center][color=#0066ff][i][b][u]"Thought"[/u][/b][/i][/color]
[color=#0066ff][b]"Speech"[/b][/color]
[color=#0066ff][i]"Text or other's speech"[/i][/color][/center]


Text here~


[center][b]Addressed:[/b] [color=#0066ff]x[/color] [b]Mentioned:[/b] [color=#0066ff]x[/color] [b]Word count:[/b] [color=#0066ff]x[/color] [b]Notes:[/b] [color=#0066ff]x[/color][/center]
</div></div></center>
Sorry for the double post

---
Permissions in this forum:
You
cannot
reply to topics in this forum